So I made another pair of shorts, apparently that's all I make now days. But in my defense I have been planning these since last summer when I saw these shorts on ModCloth (no longer for sale).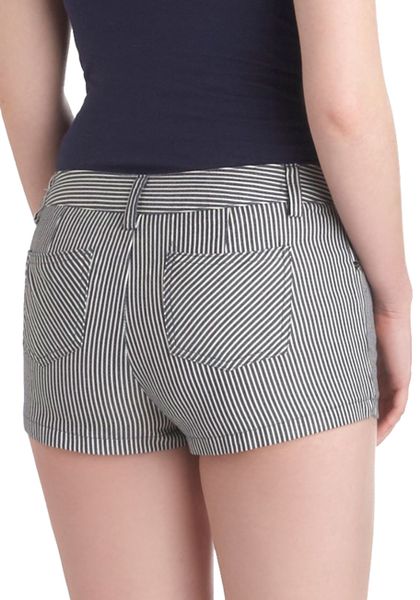 http://www.modcloth.com/shop/shorts-rompers/stripes-my-fancy-shorts
My version:
The fabric is actually something I got at the Goodwill and was a 3xl mini skirt. It was around $3 and was a ton of material. I used the waist band (made smaller) and the zipper from the original skirt but just cut out the rest of my pattern pieces like normal. I wish I would have taken a picture of what it looked like before.
I used white fabric with little yellow and blue bicycles on it for the pockets that I had a remnant of. When I noticed how close the bottom of the pocket was to the hemline I decided to hem over it so it didn't peek out. But now I can't really pull my pockets inside out...so there's that.
Cat attack! Well I guess I was done taking pictures anyways...
I weirdly really like making belt-loops, I think it pulls the whole thing together.
I kind of want to make floral shorts after seeing a floral twill fabric on the Mood website...but I really really don't need any more shorts! We shall see if I can resist... I am going to try to talk myself into making a Grainline Moss miniskirt instead (not in floral), at least that is a little variety.